何気に・・・
          試合 勝点 勝 分 負 得 失 差  
1 ミラン      26  57 17 6  3 44 16 28
1 ユベントス   26  57 17 6  3 43 15 28
3 サンプドリア  26  44 13 5  8 30 20 10
4 インテル    26  43  9  16 1  47 31 16
26節終了時点
う、少しがんばってくれればなぁ(ダービー)
アレ2得点。ざまーみろ!
Juve vs. Siena 3-0
When we began yesterday's match we knew that it was essential for us to start winning again and to score, and I think we did our job on both sides with generosity and substance. It was a great victory:
I'm very pleased for the two goals I scored and for my and
the whole team's performance that allowed us the lead of
the championship (even if only for a couple of hours), and allowed us
to win against a very fit Siena unbeaten for seven matches.
Very good signs and important proofs in view of the next games,
two key-matches for this season:
Saturday against Rome and the return match against Real
in Champions League.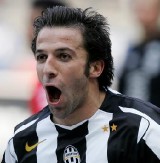 1点目のあと?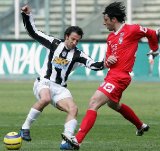 キレキレよ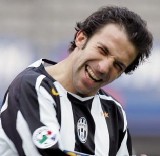 2点目のあと?
ⓒAFP WORLD SPORTS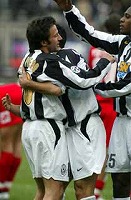 うるはしき