今更
Disco Getaway Truth North FF Breakin'
02.03.2005
Bleed From Witihin Video - Live From Liverpool Academy
You can now download a live video of the band performing "Bleed From Within" at the Liverpool Academy from last year.
The video is currently being shown on MTV2 across the UK.
To download the video, visit this link:
Bleed From Within Video
New Diary EntryEnter The Competition
02.03.2005
FREE Tickets To See The Music LIVE on Jimmy Kimmel
The Music will be performing on Jimmy Kimmel Live March 14th!
We're looking for die-hard fans who want to be a part of the show. The band will play one song on-air and several more after the cameras stop rolling. Come rock out with The Music!
Head over to 1iota.com and reserve your tickets TODAY!
http://www.1iota.com/  行けません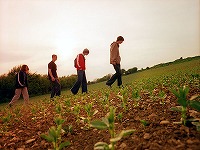 なんか和むのでアップしてみました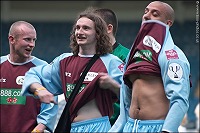 和むといえばこれもかなり。
おなかぷよってますよ。
背番号は岬君と一緒です。