Hello,
Its Robert from The Music. Hope you are all well.
Would like to take this opportunity to say a massive thank you to our Japanese fans.
Its means a lot for us to be able to play once again at the Fuji Festival.
It is one of the most impressive festivals in the world.
You never fail in making us feel welcome in Japan and your loyality to
The Music is what has helped us through our second album cycle.
I hope in the future we can play Fuji again and again.
We are currently working on songs for our 3rd record.
Hopefully it will allow us to return Japan in the near future.
Much love,
ROB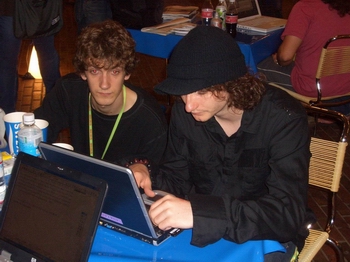 Arrived in japan at 9am Thursday morning.the drive took us around 5hours due to traffic through Tokyo.we arrived at fuji around 4pm and checked in to the hotel.had enough time to get a shower then we went out into the site for some food and a beer.went back to the hotel and fell asleep for a few hours due to not sleeping on the flight.got up and had a few drinks then went back to bed.woke up around 12.30pm Friday morning ready for press at 1pm.ready to stop in half an hour.
Stu
Hello to all our fans across Japan . It is exciting to be in your country again at our favourite festival . So far we have not done that much. We had a very long bus trip to the site and we arrived yesterday afternoon . we spent the rest of the day walking round the site and meeting fans which is always nice for us . It is refreshing for us to be treated so well . We are looking forward to playing and we are also looking forward to watching many bands as we are staying for the whole festival . Thank you again for being so kind to us . We hope to see you all soon . We will be back in Japan as soon as possible . Thank
Adam(gt)
We're back at fuji rock again. It feels like home away from home again. I hate to use clichés but sometimes they're clichés for a reason. This place is the only place in the world where weather cannot dampen anyone's spirits. We seem to be cursed with rain every time we play outside but by looking into the crowd yesterday you wouldn't have realized the downpour. Playing fuji for a second time felt so comfortable and uplifting. I LOVE this festival and will return for aslong as I can. Phil.
EMI 溜池日記より