http://www.nme.com/magazine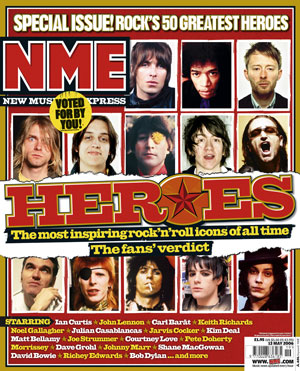 NME is the biggest-selling weekly music magazine in Britain. Featuring agenda-setting news, the UK's most comprehensive gig guide, definitive reviews of the week's hottest gigs, tracks and albums and exclusive interviews with the most important bands around, it's the Bible of every young music fan.
The Libertines, The Smiths, Sex Pistols and Arctic Monkeys were all introduced to the world via the pages of NME, while in recent months we've gone on the road with The White Stripes, gatecrashed the stage at Live8 and narrowly escaped being thrown out of a moving car by Pete Doherty.
NME comes out every Wednesday, is priced a mere £1.95 and is available in all good newsagents.
This Week
NME Heroes
The 50 stars who changed Rock N Roll forever -as voted for by you! But who's number one? Jimi Hendrix, Kurt Cobain? Liam Gallagher? Richey Manic? Or David Bowie? And did Pete Doherty even make it onto the list?
Plus
Radiohead: The definitive first night tour report
Coachella 2006: Gnarls Barkley, Scissor Sisters, Bloc Party and Editors rock America's biggest festival
Dirty Pretty Things: Carl talks us through the album track by track
The Raconteurs, Forward Russia albums reviewed
Primal Scream: The songs that changed Bobby Gillespie's life
Panic! At The Disco, Lostprophets and My Chemical Romance storm Give It A Name fest
Stamp Out The Touts: The government speaks
Peter Robinson takes on that bloke from Orson